Luther Allison
7 CDs, 4 DVDs, and an 88 page book.
A Legend Never Dies Essential Recordings
1976-1997
From Ruf Records & Produced By Bear Family

Blues Music Magazine has negotiated a limited number of this incredible collection. They are shipping from Germany and will be delivered in January 2018. Weight - 5 lbs 6 ounces
Click the banner to order!
Deluxe box set contains seven CDs, four DVDs and a book. The box set celebrating the 20th anniversary of the passing of blues legend Luther Allison. This release is limited and numbered to 1500 CD sets; you should not wait to get your copy of this collection containing the essential albums Luther recorded after his Motown years.
In addition to the albums, our friend Editor-In-Chief of Blues Music Magazine Art Tipaldi has written an 88-page coffee table book featuring Luther's inspiring story, comments from his friends and associates, as well as many rare and private photos.
Plenty of video footage is included on four DVDs. You'll get to see performances from 1997 (Live in Paradise and Zoo Bar), 1991 (a concert in Germany where Luther plays alongside his son Bernard), and 1987 (a show from East Berlin). It's all there; this compilation is a feast for the eyes, ears, and heart of any blues fan.
Luther Allison is a genuine blues hero with an incomparable expanse of energy and love for his music and for the people who loved it. We hope you enjoy every bit of this celebratory Luther Allison collection.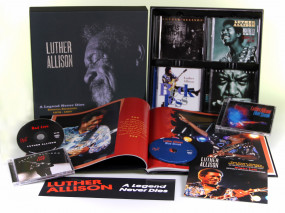 7-CD / 4-DVD / with 88-page hardcover book. 79 tracks (CD), 58 (DVD). Total playing time: 414 mins. (CD), c. 400 mins. (DVD). NTSC, region: 0
Box set commemorating the 20th anniversary of Luther Allison's death


•First comprehensive CD and DVD retrospective, a detailed look at the incredible career of one of the most fascinating modern blues personalities par excellence.
•Numbered edition limited to 1,500 copies worldwide.
•Seven original albums on CD, including 'Montreux 1976 - The Complete Show' – first time on CD!
•Four concert DVDs, including 'Live in East Berlin 1987', a contemporary document, plus Luther's jaw-dropping show from the 1997 W. C. Handy Awards in Memphis.
•The 88-page accompanying book comes with a biography by blues expert Art Tipaldi, personal memories of fellow musicians and Luther's contemporaries, plus an in-detail discography.
•Countless previously unpublished photos, some from private collections, augmented by illustrations, posters and memorabilia.